Carob Boston Pie Pancakes
The idea for Carob Boston Pie Pancakes came to me when I spread some yummy Coconut Yogurt on another carob confection I was experimenting with.  What if I could make a healthy, vegan, gluten-free pancake version of the famous delicacy, replicating the delightful creamy, custard-y insides and the oh-so-thin fudgy frosting?
Of course I did what every modern cook does in that time of culinary vision: I googled. And I found several 'pretty-close' recipes, then I added my own spin, fussed about with a couple of sample bakings and picture-taking.  Hope you like this *healthy chocolate version of the classic!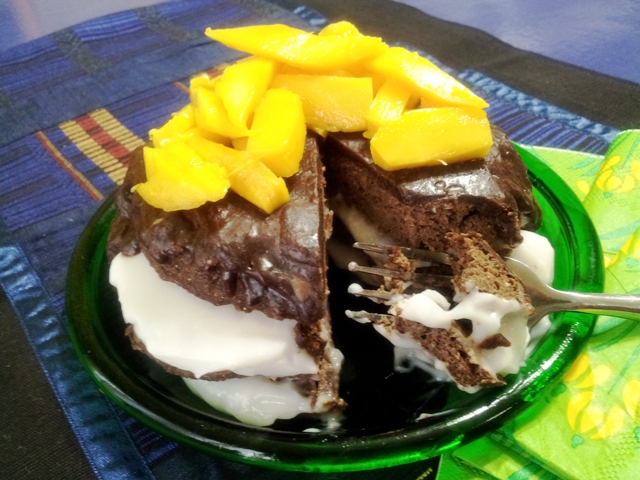 Ingredients:
1 c.+2 T./150 g Buckwheat Flour (or fave GF Cake Flour Blend
2 T. /30 ml       Coconut Flour**
3 T. /45 ml       Carob Flour/Powder
1 tsp./5 ml        Baking Powder

1/4 tsp /l ml      

Baking Soda

1/8 tsp /.5 ml    

Fine Sea Salt
2 T. /30 ml        Flax Seed, fine ground
2 tsp. /40 ml      Chia Seed, fine ground
2 tsp. /40 ml      Apple Cider Vinegar
1 2/3 c./400 ml   Non-dairy Milk of Choice (not Light)

1 tsp/20 ml

           Vanilla Powder***

1/16 tsp./.25 ml  

Green Organic Stevia Leaf Powder****
Method:
Measure out all ingredients and lay out
Combine the dry ingredients in a large bowl or food processor
Add the Apple Cider Vinegar and Non-Dairy Milk and stir  or process until well-combined.
Pour into a hot griddle and cook or bake in a 300F/150C degree oven on parchment rounds until puffed up and golden.  
Cool on racks
This link is provided by an Amazon Associate/Affiliate
How to Make Icing:
Combine a couple of tablespoons of Carob Powder with Agave Nectar to taste (or sweetener of Choice).  Mix up until smooth and syrupy.  You may want to add about 1 tsp. of melted Coconut Oil.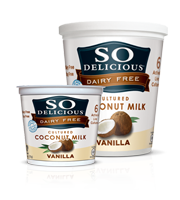 Putting it all together:
Spread Coconut Yogurt fairly generously on 2 or 3 pancakes.
Layer three deep
Frost the top layer and sides (or pour over, pancake style)
Top with fresh seasonal fruit (mango, peaches, raspberries, etc.)
There you have it: a delectable confection that somewhat resembles my old favourite, Boston Cream Pie-- now to be known as Carob Boston Pie Pancakes!