Carob-Chickpea Cookies Recipe

Carob-Chickpea Cookies? "...hmmm..." you say?  Well, if you are looking for a fudgy (without cocoa or chocolate), flourless (read: Gluten-Free), low fat (recipe uses no visible oils or fats), vegan (recipe uses no dairy, egg, or other animal products), high fiber (that is, very healthy), and that tastes mahvelous, dahling, just mahvelous (YUMMY)... this is the cookie for you!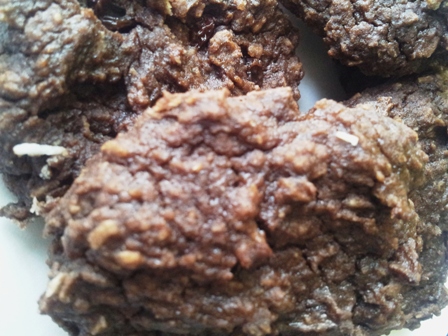 This delightful cookie was designed for those with various dietary restrictions or sensitivities.  Carob is a legume pod that grows on a bush in tropical regions of the world. The powder or "flour" that is ground from the pod is sweet-tasting and low-glycemic and actually was used at one time as a sweetener on its own.  It's chocolate-y color and 'mouth feel' means that it is frequently used as a chocolate/cocoa substitute in preparing treats aimed for people who desire not to consume cocoa or chocolate itself.  But carob has its own lovely flavor and qualities and it is quite unfair, in many ways, to pretend that it is something that it is not! Carob lacks the bitterness of the caffeine in chocolate and the stimulant jolt of the theobromine. People who are not caught up in the enchanting marketing ploys around chocolate will generally prefer carob for its gentler flavour bouquet (some folks actually add carob to cocoa-based recipes to 'cut' the bitter edge of cocoa) and for its more dense nutrition.  It is friendly to all digestive systems, young and old.
Chickpeas, or Garbanzo Beans, are grown in Eastern countries and have a long history of cultivation for their dense mild beany-ness.  Chickpeas and carob together are a high fiber source of plant proteins.  It's a bit of a mind-bend to think Carob-Chickpea Cookies BUT I promise you will detect NO off-putting bean-flavor-- nothing hints that this is a fake chocolate-bean mixture to the unknowing sampler.
So, without further rambling, here is the recipe:
INGREDIENTS:
1/2 C.   Sugar or other sweetener (eg.,3T Coconut Sugar & 1/8tsp Stevia)

15 oz.   Cooked Chickpeas
1/2 C.   Carob Powder (I used Raw but you could use Roasted)
2          Ripe Bananas, chunked
1/4 tsp. Baking Soda
1 T.       Vanilla
1 T.       Caf-Lib or other Coffee Substitute (OPTIONAL)
1/4 C.    Coconut Shreds

1/2 tsp.  Celtic Sea Salt
1/2 C.     Water
1/4 C.     Raisins

METHOD:
Preheat Oven to 350 degrees Fahrenheit (170 degrees Celsius)

Mix all of the above ingredients together in a food processor until uniformly smooth.
Place a dozen tablespooned cookie shapes onto a silicone sheet or parchment on a cookie sheet (no need to spray with oils)
Bake for 25+ minutes (baked when inserted toothpick comes out clean-- do not over-bake)
Let pan sit on cooling rack for a few minutes, and then carefully remove individual cookies to complete cooling on rack.  Expect these Carob-Chickpea cookies to be moist and tender.
OTHER POSSIBILITIES:
Bake in a cake pan as Brownies (add nuts?)

Add Ginger and Cinnamon to Cookie Dough to make a cookie reminiscent of soft molasses-ginger cookies
Carob-Chickpea Cookies
(Click to go back to Top of Page)
The above recipe by Cynthia Zirkwitz complies with Dr. John A. McDougall's
THE STARCH SOLUTION: Eat the Foods You Love, Regain Your Health, and Lose the Weight for Good -- no visible fats or oils or animal ingredients.
(Available through Amazon.com Cynthia is an Associate of Amazon.com and will receive a small commission if the above link is used to purchase "The Starch Solution" or other items through Amazon.)