Carob Frozen Dessert
This carob frozen dessert recipe is creamy, sweet, fudgy and refreshing.  The amazing thing about it is that there are only 4 simple ingredients, all of them pretty healthy (unless you have an allergy to hazelnuts).  For anyone who makes their own almond mylk (or other nut or seed mylk) it provides the perfect solution for using the left-over pulp* in a delicious way!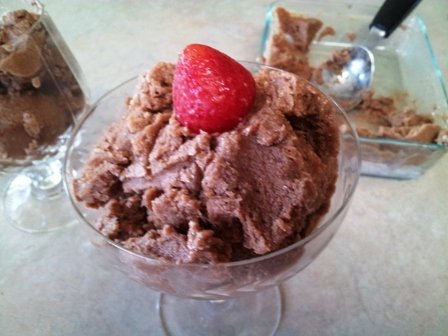 Ingredients:
*if you do not make your own hazelnut mylk, you may use hazelnut meal instead of the pulp.  It will make the ice creem a little heavier and oilier than the pulp, but is still a tasty substitution.
Method:
Soak Dates and Hazelnut Pulp in Water for about 20-30 minutes to soften dates and re-hydrate pulp somewhat
Add all above ingredients (including 3 C. soak water) to high speed blender caraffe 
Blend for up to 5 minutes until the mix is completely silky smooth throughout.  
With a spatula, pour the mix into a container / pan and cover with a lid or plastic.
Place in freezer overnight or for about 6-8 hours.  Will serve 3-4 as dessert, or 2 for a meal.
Will stay creamy in freezer for up to 2 days.  Best if eaten in one go after first removed from freezer.
Some chocolate fans might either see this icy carob treat as a worthy substitute for chocolate ice-cream if doing this in a desire to cut down on chocolate, or they might be disappointed that carob does not provide the same cocoa flavour.  It is worthwhile to point out the carob is NOT in the same family as cocoa/cacao/chocolate.  Carob is a legume.  Its signature taste bouquet is sweet and more like fudgy caramel.  Carob does not contain caffeine or theobromine, both bitter stimulants in chocolate that can have sleep disturbance and jittery nervousness as side effects. Chocolate is not recommended for children or pets.  Carob is quite okay for children and pets to eat.  This carob frozen dessert is a fine treat for families on a hot summer's day.   
Healthy Sweet Recipes Using Carob
*Carob Frozen Dessert (Go Back  to the top of the Page)